Eryri offers a diverse landscape of stunning coastline and mountains which are enriched with lakes, waterfalls, wide green valleys, woodlands and much more. There are extensive opportunities for recreation, leisure and learning for people of all ages and abilities all year around in Eryri, from sporting activities such as climbing and surfing to more relaxed activities such as fishing. With an abundance of public footpaths, native woodlands, river valleys, lakeside walks, mountains and coast, tranquillity and solitude can easily be discovered by those who wish to improve their health and well-being.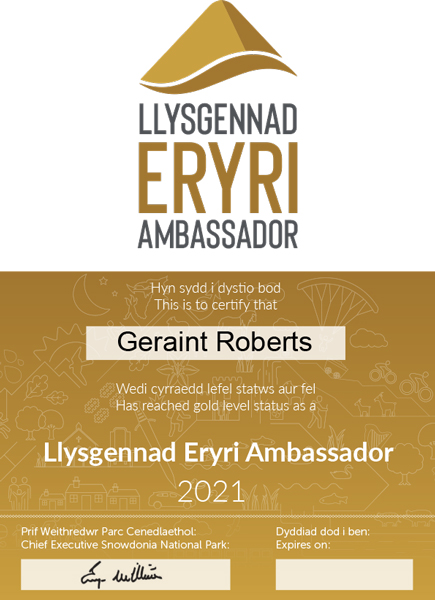 For those who have in interest in history, Eryri has been crafted by centuries of human activity and there are many historic sites which can be visited for example, Dolwyddelan Castle, Cymer Abbey, Yr Ysgwrn and many more. There is also an UNESCO World Heritage site at Harlech, Caernarfon, Beaumaris and Conwy, collectively known as the "Castles and town walls of King Edward in Gwynedd".
There is an abundance of wildlife, with 2 Ramsar sites at Cwm Idwal and Llyn Tegid which are wetlands of international importance, 17 National Nature Reserves and 56 Sites of Special Scientific Interest, hosting a rich variety of flora and fauna including the rare and well known Snowdon Lily which grows high in the mountains of Eryri.